For quick links to the following subjects, click each word or phrase:
Pricing / Subscription Plans, Get Started, Sign up, Paying, Paying with a Coupon
Pricing / Subscription Plans
HearNow is a subscription based service. Subscriptions for each HearNow page are paid and managed separately from one another, but all of them can be accessed from within one HearNow account.
You can choose between two subscription options:
Monthly: $2.95/month per release and page
Yearly: $24/year per release and page
*Cancel any time
For less than the cost of a single cup of coffee, you can be promoting your music on a professionally designed website! If you have a coupon and need help, you can pop down here for those instructions. 
A Note on Multi-Albums
HearNow is built with Multi-Album support, however, each HearNow page is designed to display just a single album. If you have more than one album you want to actively promote, you will need to create a HearNow page for each release you want to promote. Multi-Album support then links each of those pages together in a graceful slider at the bottom of each of your pages, making it easy for your fans to switch between albums! It will look like this 👇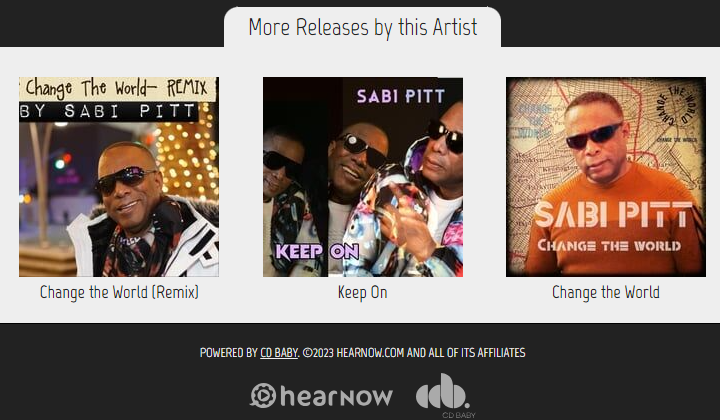 Get Started
1) You can start by going to https://hearnow.com/ or through your CD Baby dashboard*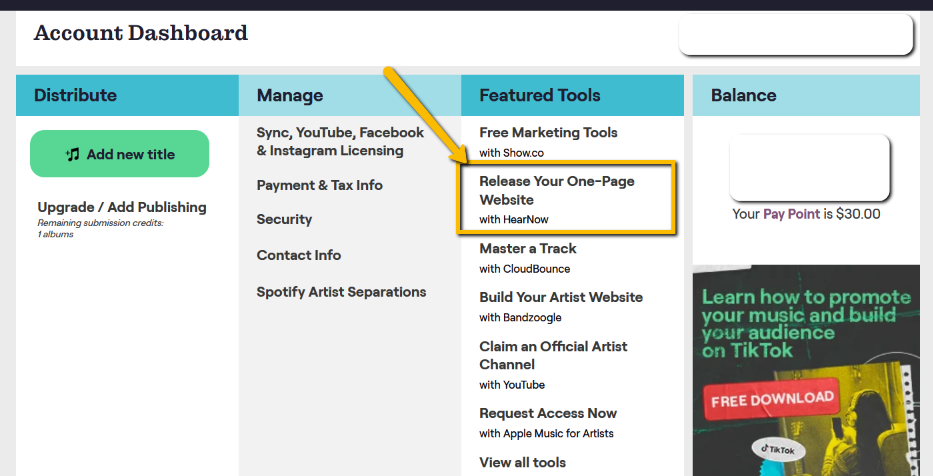 *Keep in mind you will need to create an additional account at HearNow. 
If you start by going to https://hearnow.com/, you will be presented with a page that looks like this: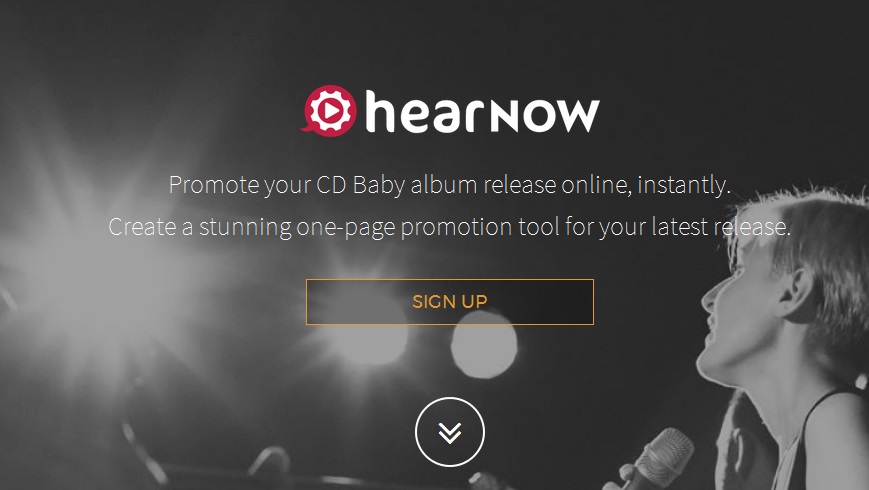 2) Click on Sign Up, you will be scrolled down to a part of the page that says to sign in to your CD Baby account as shown below:

3) From here, log in to your CD Baby account.
Once you are logged in, click on the link that says "Release your One-Page Website", under Featured Tools as shown here: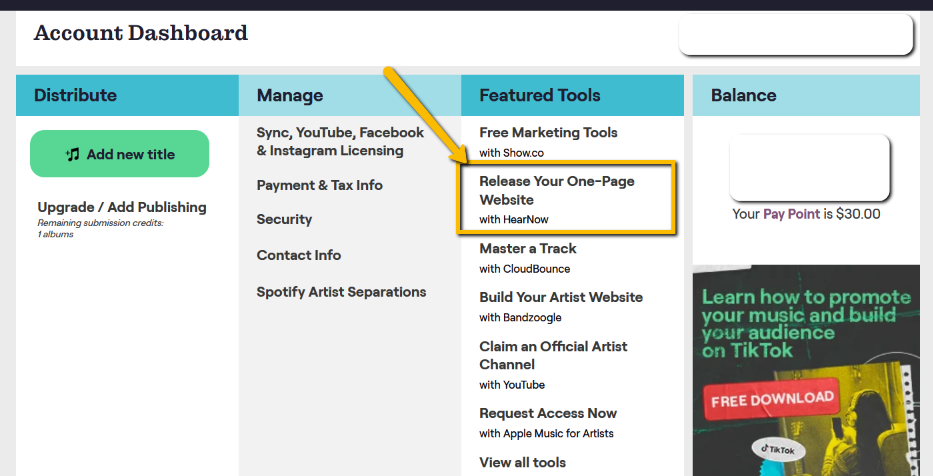 Sign Up
1) On the next page, it will list all releases you have that are currently eligible for the HearNow program. Eligibility means that your release has been delivered to our digital partners. You can check the status of your album within your CD Baby account. To do so, check out this article.
2) Once you decide which album you want to promote, click the PREVIEW button, as indicated below: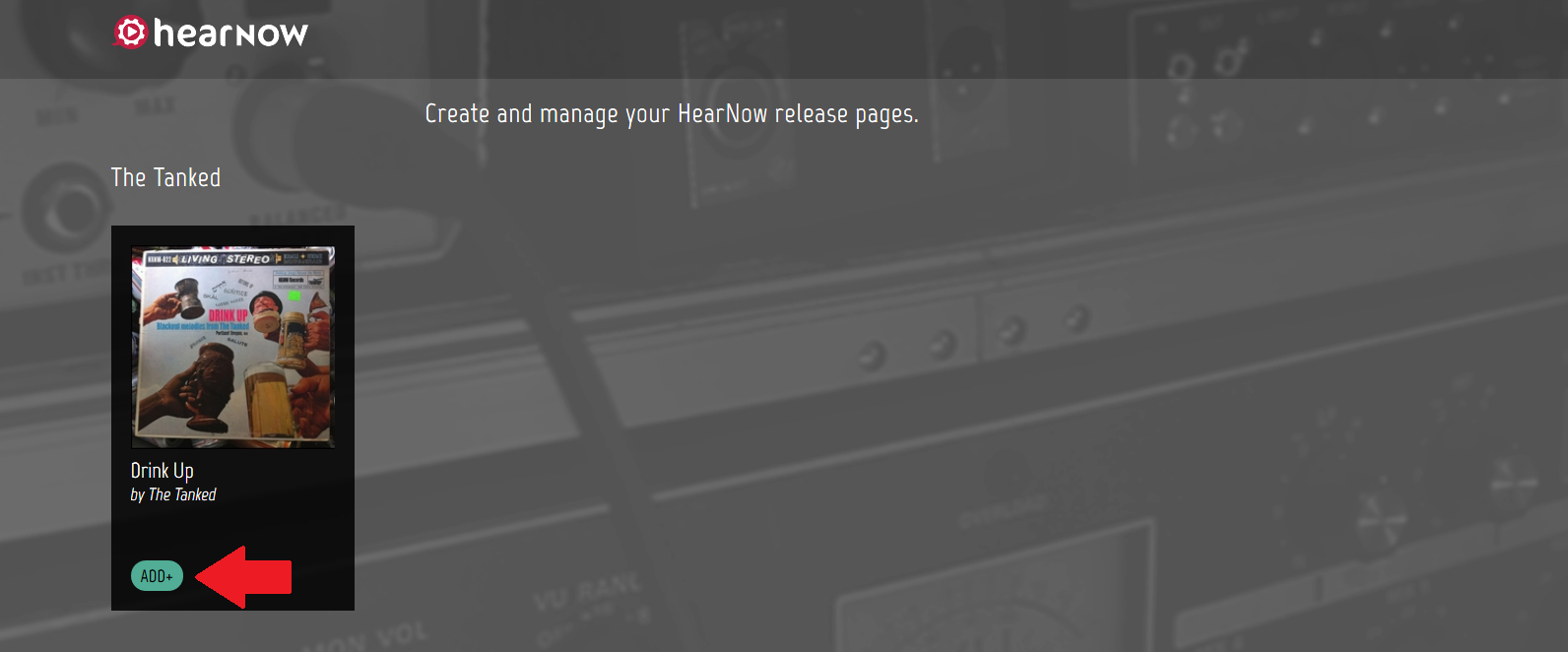 3) On the next page, you will see a preview.  If you like what you see, click "This looks awesome. Sign me up!"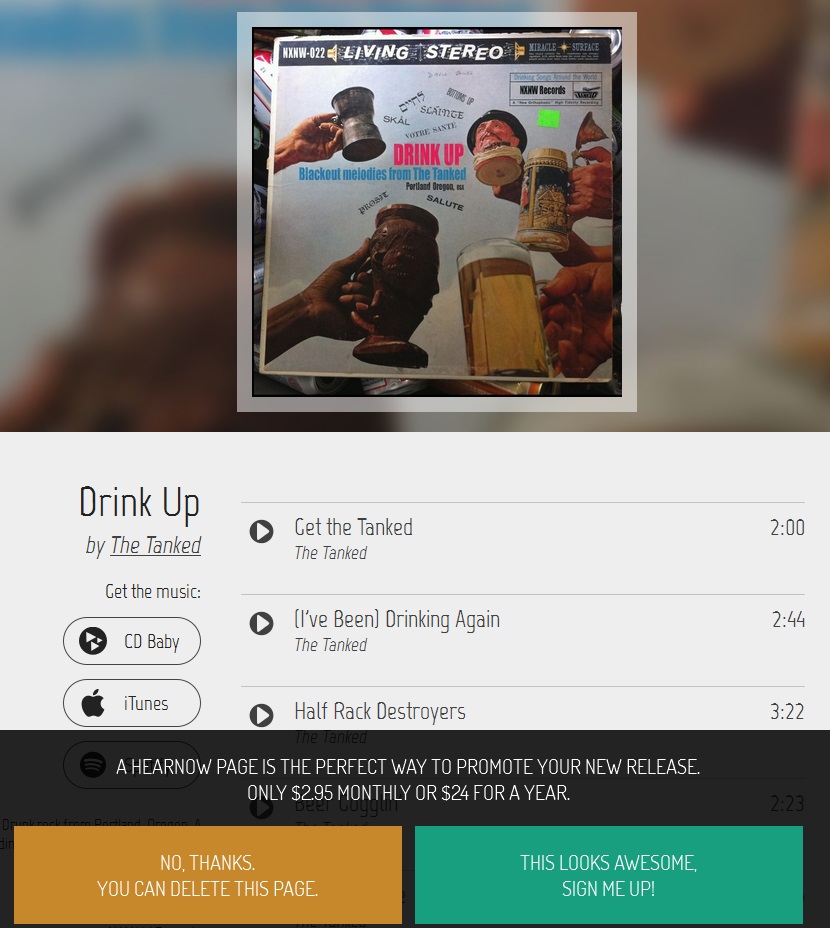 4) Once you click "This looks awesome. Sign me up!", you will be prompted to create a HearNow account. Enter your Email address in the top line, and whatever password you want in the next 2 fields. We recommend you use the same email address as your CD Baby account for ease.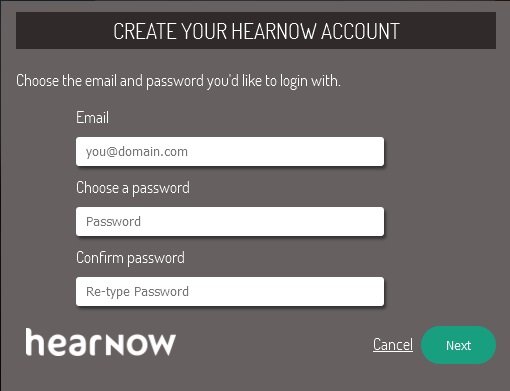 4) Next, you will pick out the URL that will be used to share your site with your fans. Most people just use their artist name, and that will be the default that auto-populates, but if you want something else this is where you would enter it. (Past this point, you won't be able to change it without reaching out to HearNow.)
5) When you are done, click "Next".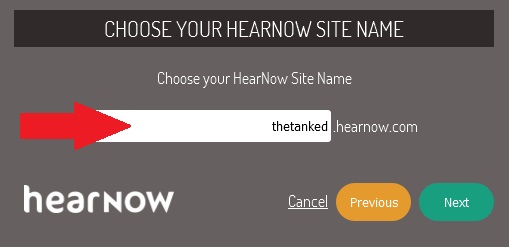 Paying
Next, you are going to select your payment plan: monthly or yearly. By default, it will sign you up for the monthly subscription, but if you would prefer to pay annually, just check the box that says $24.00 and you will sign up with a yearly account instead.
You have 2 methods for payment. Credit card, or PayPal. If you choose PayPal, you will be directed to a PayPal landing page where you will complete the steps to approve the transaction.
If you use the Credit version, you will enter your information in the provided form, and click the "Create my site!" button to complete the payment portion and be directed to the next page.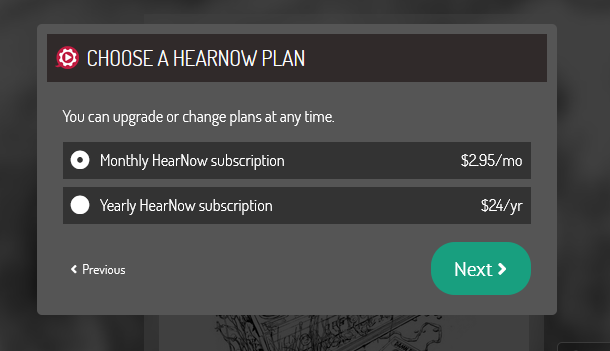 Paying with a coupon
If you received a HearNow coupon during your sign-up of a new CD Baby project (good for half-off a year subscription), you can apply that with the following instructions:
1) Make sure you choose the YEARLY payment plan or else you cannot redeem the coupon.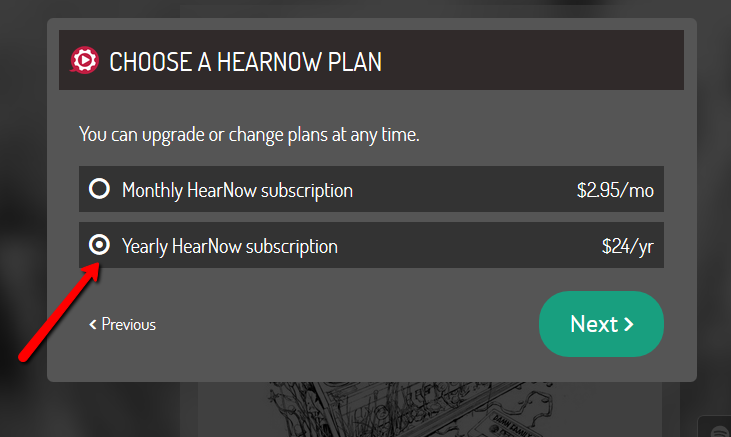 2) After hitting "Next," you will be at the check out screen. Click "+Add Coupon Code", it's pretty small so don't miss it.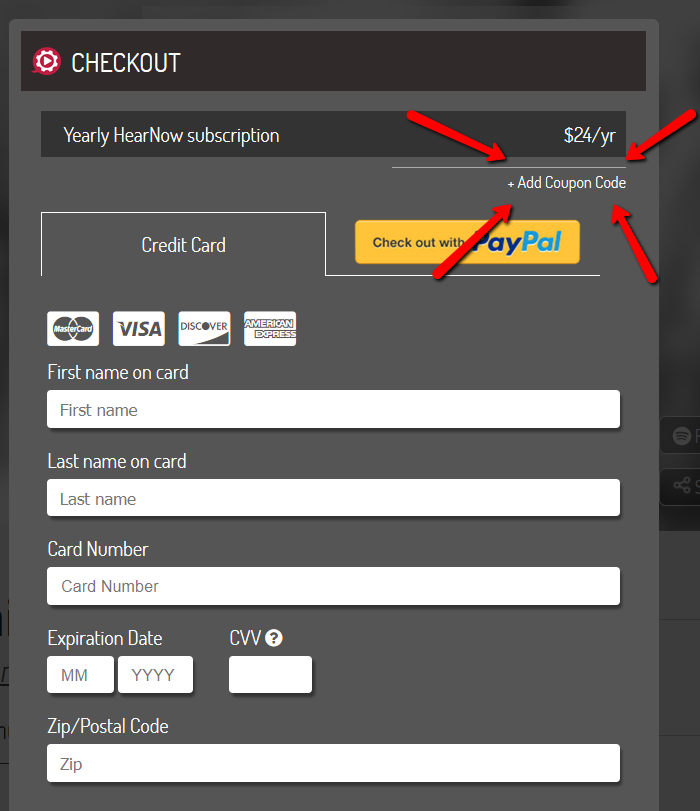 3) In the checkout, you will want to
 Enter the coupon code, then
 Hit "Apply Code"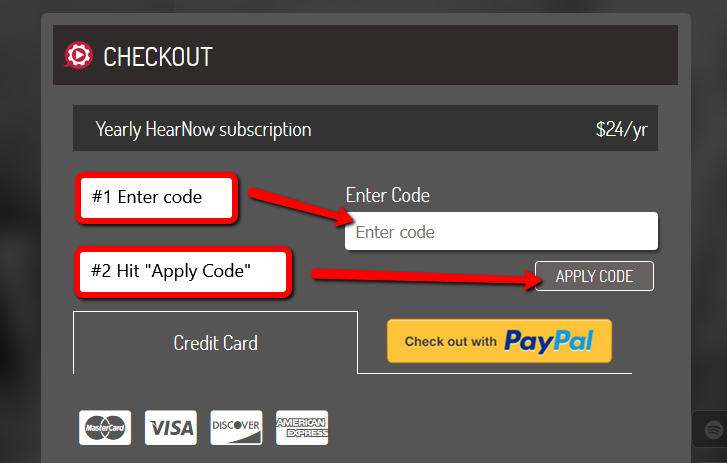 Your next screen will look like this and you will need to
3. Add your credit card information or pay with Paypal.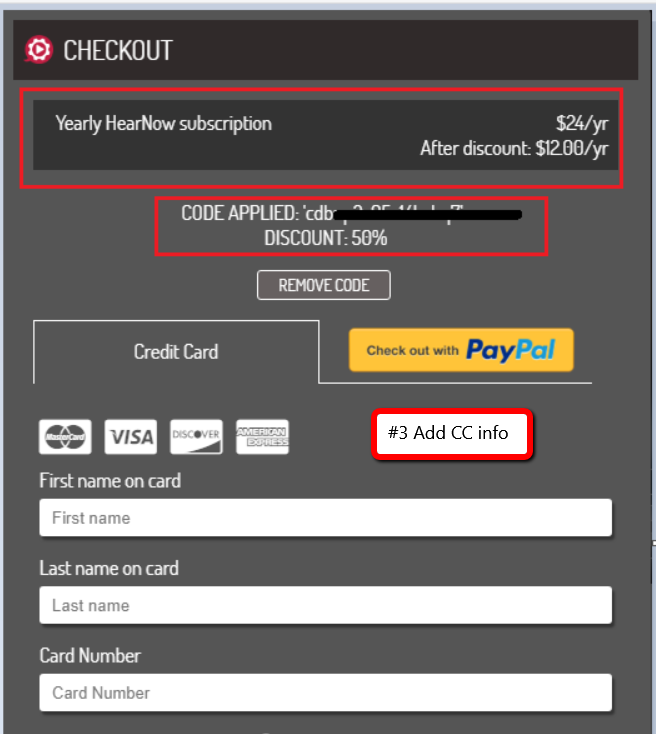 Finally, you will be presented with a confirmation window that overlays your site. Click "Got it, thanks!" when you are ready to start editing your site.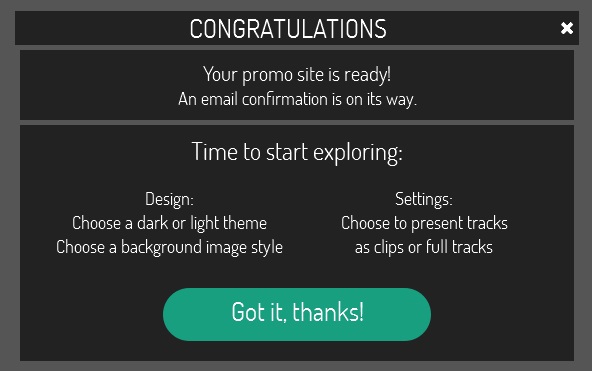 That's it! You are now the proud owner of a HearNow One-Page Website!
If you would like to know more about what you can do within the site editor check out this article here.