For the security of our clients, we cannot accept requests to close an account by email or ticket request, but canceling from within your account is super easy.
Cancel Titles and Close account

To cancel and close your HearNow account, you need to make sure all the active titles of your account are cancelled first. This will automatically close your account.
In order to do so, follow these instructions:
Log into your account at

https://hearnow.com/login

Click EDIT on the title(s) you're canceling the HearNow service on
Click ACCOUNT SETTINGS
Click CANCEL SUBSCRIPTION
Fill out this form and click the CANCEL SUBSCRIPTION button at the bottom to submit*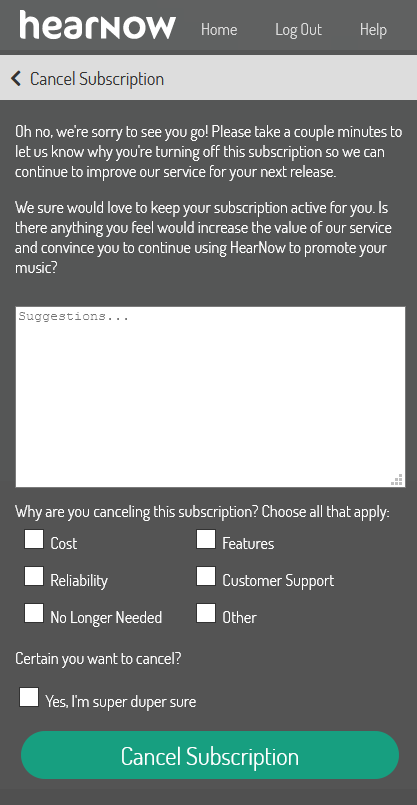 *Please note: If you are simply cancelling service for one release, though the form says "Close Account", only that title will be cancelled.
Cancelling Multiple Active Releases
If you have multiple active releases, you must cancel each one by one. There is no way to cancel all at the same time.
Once your account or the active release has been cancelled, you will receive a confirmation email from us.
My CD Baby Release
If you have active releases at CD Baby, cancelling your HearNow page will not cancel your release at CD Baby and vice versa. However, if you also need to cancel your CD Baby distribution, click here.