Releases getting mixed up on the wrong artist page is a common occurrence with bands/artists that have the same or similar names. Alternatively, if your release was placed in a new artist page instead of an existing one, or the casing or accent marks did not get placed properly, we can easily get your release moved to its own page or correct page and away from the incorrect artist page for most sites we work with.
Additional Instructions for YouTube
Additional Instructions for Deezer
Platforms we are NOT able to file separation requests with
How to file an Artist Separation with Spotify
If another artist's content appears on your verified page, please report it here.
For all other requests, log into your CD Baby account
Under "Manage" click on "Spotify Artist Separations"
Follow the instructions, it's that easy! You will receive a confirmation once the request has been submitted.
How to report an artist profile issue with Amazon Music
You can request a correction directly within the Amazon Music for Artists web or mobile app.
If you have already claimed your artist profile, you can report an issue with the following steps in your Amazon Music for Artists account:
Click on the incorrect album/song

Click on the three-dot menu next to the title

Select "Report Issue"

Once the form is complete, click "Submit"

If you have not yet claimed your artist profile, or you are having trouble doing so because of a profile correction, you can still use the Amazon Music for Artists app to report an issue. Start by creating an account, navigating to 'User Settings', and then clicking on 'Report Issue' under the Help section. From here, provide the required information within the form and click "Submit".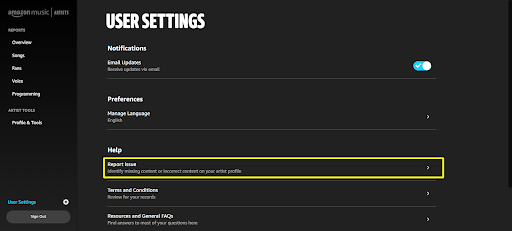 Please allow up to 4 weeks for the changes to reflect on Amazon Music.
How to file an Artist Separation with other partners
(NOTE: For separations regarding YOUTUBE and DEEZER please see additional instructions further down in this article)
You will need the following information to successfully request an artist separation:
The URL(s) of the ARTIST page(s) where you see your releases mixed in with the other artists'
The UPC of YOUR album(s)/single(s) (you can find this in your CD Baby account by clicking the link UPC Bar Code from your account dashboard.) If you need help, go here.
If there is more than one partner at which the problem appears, please select "Other" from the dropdown menu, and list the partners in the description. You do NOT need to submit multiple requests per partner.
In order to have your music separated from the wrong artist page or moved from one artist page to another, use the Submit a Request page & choose Artist Separation Request from the drop-down. The ticket will be sent directly to our digital team, and they'll send you a reply once your request has been processed.
How to find the Artist URL on a partner site
On an application like iTunes, you can obtain these URLs by right-clicking the artist name and then left-clicking "Copy URL." For our other partners, you can search their site then copy the link that appears at the top of the screen once you have located your listing.
Additional Instructions for Artist Separations on YouTube
Artist Separations on YouTube require more specific information so be sure to include this information where applicable.
UPC(s) of your album(s)/single(s)
A list of ISRCs of all your tracks
Current YouTube URL of the incorrect topic page
The desired URL, if there is one. (If there isn't one then just say "Please move to a new page" or "Please move to a new topic page".)
Regarding Topic Pages and YouTube:
If you DO NOT have an artist page listed on either Wikipedia or MusicBrainz, your content will be moved to a page of its own, and that page will be listed under "Various Artists".
We highly recommend you claim your YouTube Official Artist channel before you submit an artist separation. You can see more information on the benefits here.
PLEASE NOTE: If you are in the process of claiming your Official Artist Channel for YouTube, please wait two weeks for the verification to process. By claiming your OAC, there is a high likelihood that videos that are not yours, will be removed from your channel. It can take up to 30 days for YouTube to complete the claim process. It's not unusual to see incorrect content added and then removed in that thirty day period. If it has been more than thirty days since your channel was enabled and you still see videos that are unfamiliar, submit an artist separation through the form.
Additional Instructions for Artist Separations on Deezer
For Deezer, we'll need the artist ID and the album ID.
The artist id is the number appearing at the end of the artist page URL.




Ex: https://www.deezer.com/us/artist/XXXXXXXX

The album id is the number appearing at the end of the URL of the album page https://www.deezer.com/us/album/XXXXXXXX

We also need you to let us know if this is for an existing artist page or you want us to set up a new one.
Partner sites we are NOT able to file separation requests with:
Unfortunately, we aren't able to perform artist separations at the following partners:
Amazon MP3 (unless you claim your Amazon profile.)
Anghami
AWA
BMAT
Boomplay
CD Baby Publishing
Facebook/Instagram
Hungama
iHeartRadio
Jaxsta
kkbox
Kuack
Line Music
NetEase Cloud Music
Nuuday (formerly 24/7)
Qobuz
Resso
Saavn
Shazam
Slacker Radio
SoundExchange
Tencent Music
TikTok
TouchTunes
Tradebit
United Media Agency (UMA)
Xiami Music
Youtube Content ID