When you log into your account, you will be greeted by your "Account Dashboard". You can do anything there from update your payment information under "Manage", to add a new title under "Distribute."
We're often asked by artists if they are done providing everything they need to release their music with us. Below is a quick checklist to go through. For more in-depth details, click on each link. 
Checklist:
1. Payment
You can verify if you have paid for your project by logging into your account. On your account dashboard, you will see a header that says INCOMPLETE RELEASES. Releases that need your attention will live in this section. If your project still needs to be paid, you will see a link that says "add to cart" next to it.
Here's how this would look on your dashboard.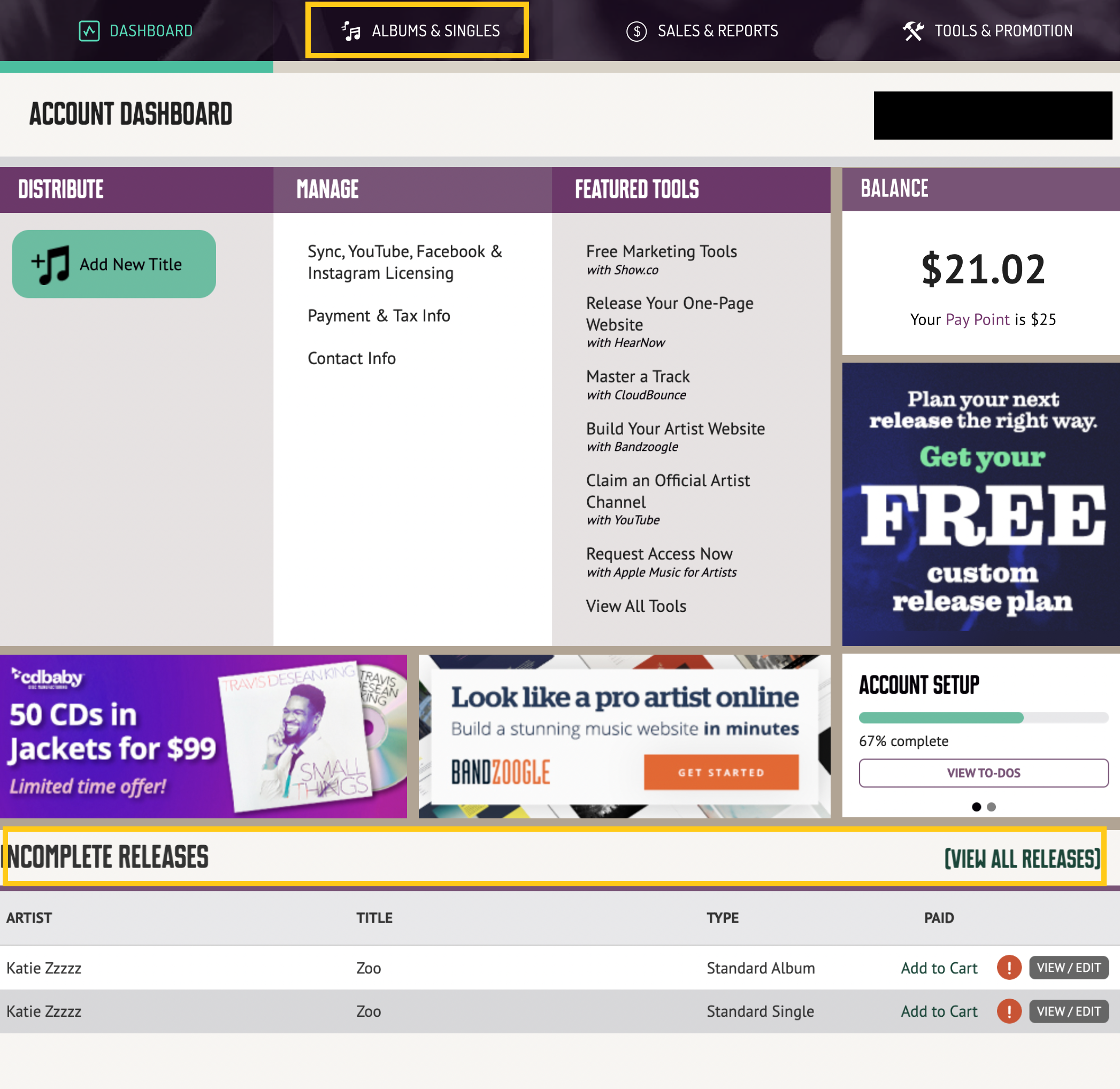 If you have no unpaid items listed, then you are all paid up, and good to go. However, if you have any releases that have an exclamation mark next to them, they still need your attention and you will need to click on the grey "view/edit" button to address the issue.
Due to the current restrictions implemented by our banking partners, credit card processors, and PayPal, we are currently unable to accept payment from people in Russia.
2. Check the Title Overview page
From your dashboard, click on the "Albums & Singles" tab to view all your projects. From this page, you can access the Title Overview page for any project by clicking on the "view/edit" button to the right of the title.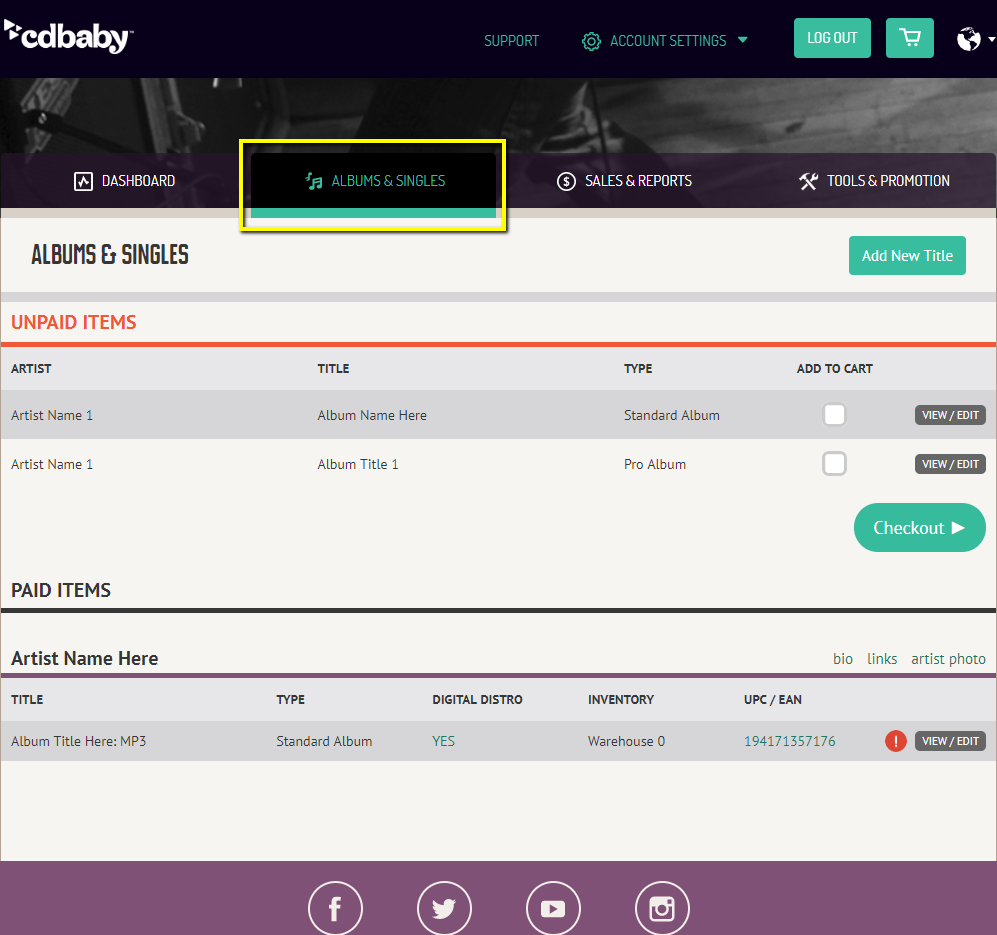 Check if any items on the Title Overview page are flagged with an orange exclamation point. In the example below, you can see a submission that has a number of items flagged as Urgent or Incomplete.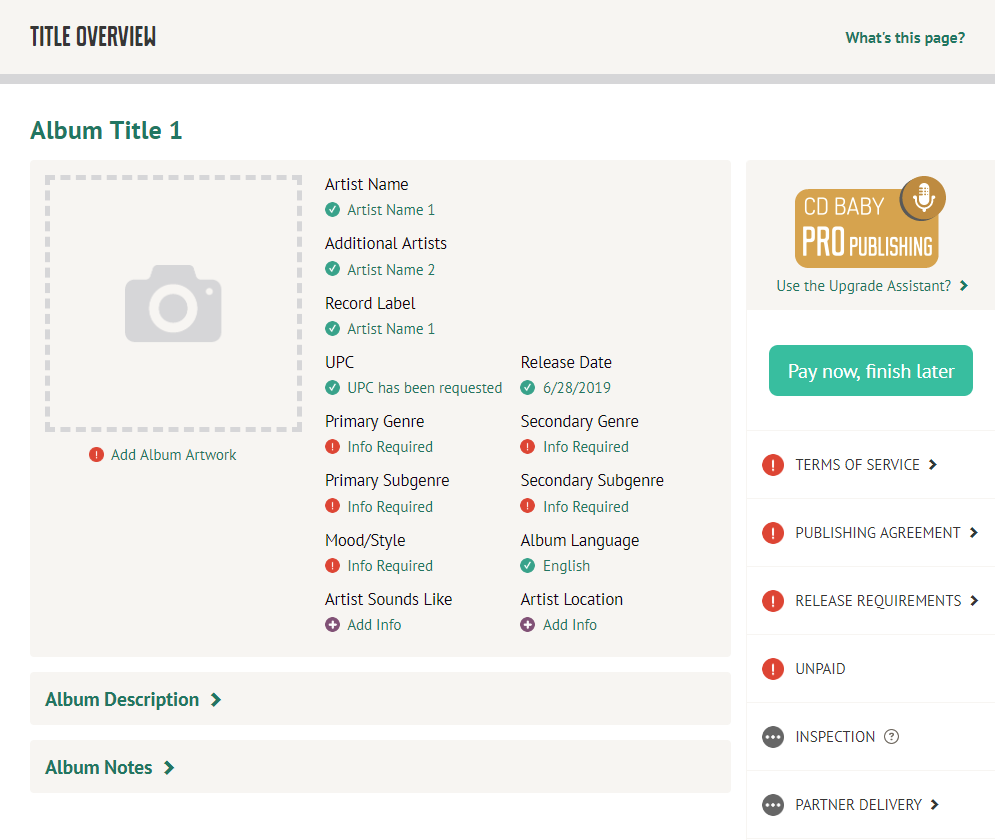 The items flagged with the URGENT symbol (the orange exclamation point) have to be completed in order for us to activate and distribute your release. The items with the INCOMPLETE symbol (the purple circle) are suggested items but will not prevent your release from going live. 

Please note: This information only applies to releases that have NOT yet been finalized and sent out to the partners. If your release has already been finalized and delivered to the partner sites but you are still seeing the orange exclamation marks, you do NOT need to make any changes and may ignore these marks. If you aren't sure if your release has been delivered, click the "distribution" tab from your title overview page. See more below.
3. Check your Distribution Option
Make sure you have selected one of the distribution options: Downloads + Streaming, Downloads Only or Do it All Even Unpaid. 
You can view that from the Title Overview page by clicking on the Distribution header.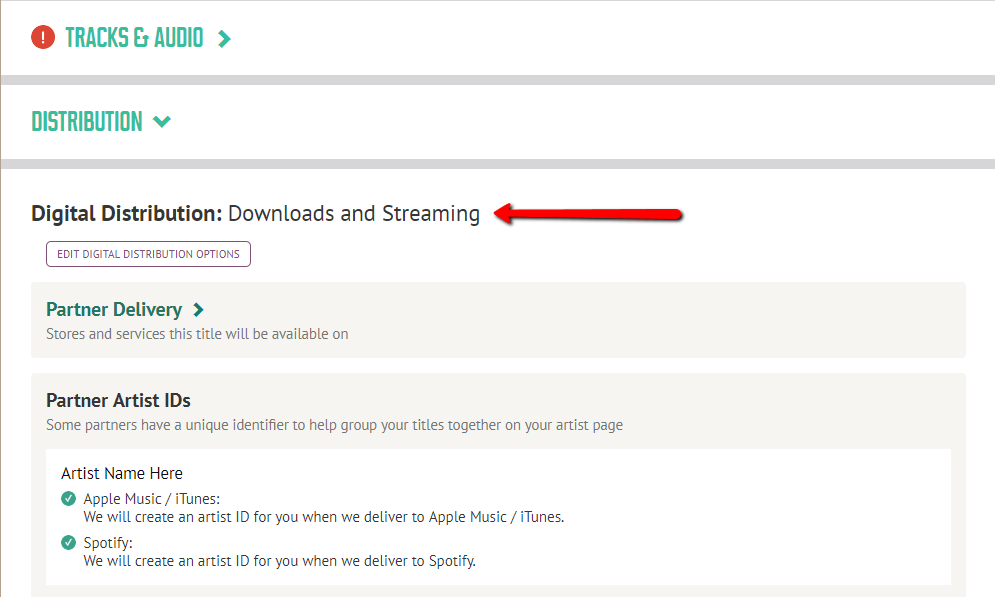 4. PRO SUBMISSIONS: Pay for Songwriters
If you have signed up for CD Baby Pro Publishing, you should make sure you have paid the appropriate songwriter fees for your release. You can see if that is still owed by logging into your account. The title will be located under "Incomplete Releases." Just click the ADD TO CART button to the top right and that will guide you to pay the appropriate songwriter fees. 
You can also see this information from your Title Overview page after you click on the "view/edit" for the title in question.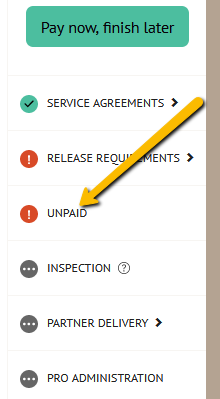 5. Sign the service agreements
Make sure you've signed all the service agreements that are available to you.
6. Submit for Distribution
If all your release requirements are completed and you have reviewed all of the information, you should click the "Submit for distribution" button located at the right side.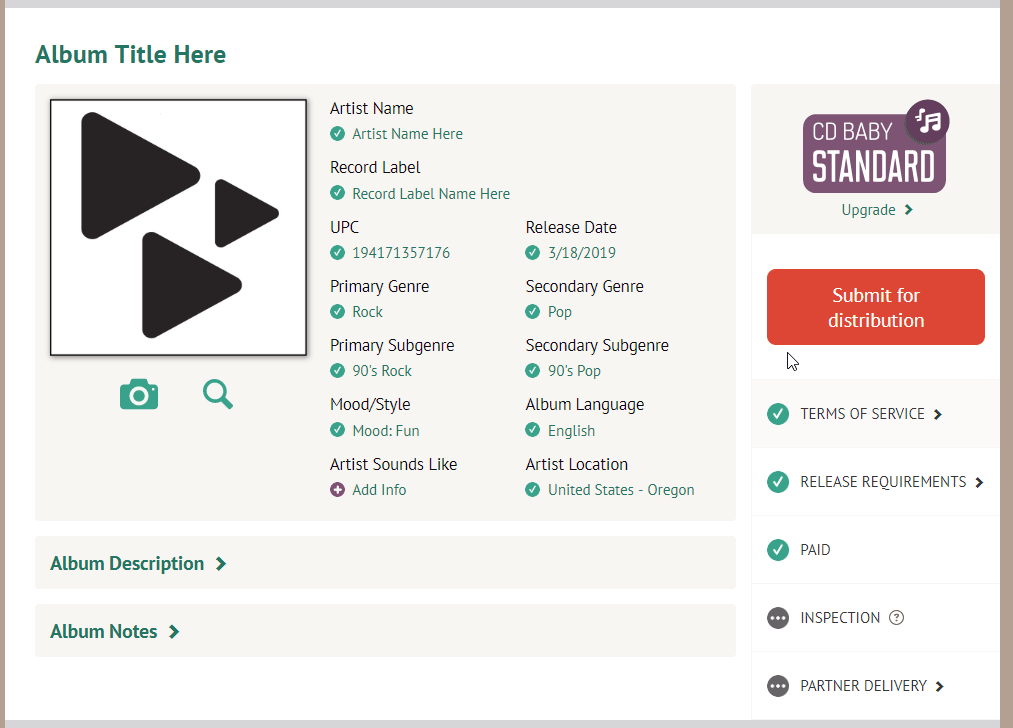 If you have completed all of the above items then we should have your release live shortly. You can check out what to expect next in THIS ARTICLE.