There could be a few reasons your album is not on a certain site. Here are the most common issues:
1.) You have a different distribution level than the partner you want to be on. For example, your distribution level "Downloads Only" (which does not include Spotify) instead of "Downloads + Streaming" or "Do it all even unpaid". 
        First: Check the distribution level.
        Second: Check your delivery history. 
2.) You've specifically restricted Spotify or the streaming site you're curious about, from your distribution. 
3.) You have a future release date.
4.) Lastly, you have an extended track (10 minutes or longer) and selected to have your album sent to "album only" partners which will automatically exclude streaming sites by nature.
CD Baby is part of Downtown Music. All deliveries of new music to Yandex and UMA have been suspended. 
In response to the most recent sanctions, CD Baby is removing all content previously delivered to Yandex and UMA. All payments received up to now have been posted in CD Baby accounts.
For more information please see: Downtown Music and Kobalt suspend operations in Russia - Variety
Let's troubleshoot together!
For number 1 and 2:
FIRST

: To check if you selected "Downloads Only" as your distribution level here:
Log into your CD Baby account
Click on Albums & Singles.
Under the column "DIGITAL DISTRO"
Click on the "Yes"
That will take you to the distribution section where you can see the level for that project.

If you see "Downloads Only" and want to be on a streaming site,  you can submit a request to get your distribution changed. 
SECOND
If you confirmed you did select "Downloads and Streaming" or "Do it all even unpaid" but you're not on a specific partner, check your delivery history on that same page. 
Under DISTRIBUTION click on "Partner Delivery" to expand the list and you will see the list of partners you were delivered to and the date:
If you: 
do not find the partner in question in the delivery list, you can submit a request to get them added (as long as its the correct distribution level) please submit a request. Please specify that you want to add a partner and include which one(s). 
do find the partner on the list but it says anything other than delivered or cancelled, please submit a request and include the delivery status its in. 
do find the partner on the list, it says delivered and you checked the partner site and its not there and its been 3 weeks, and you do not have a future release date [see below], please submit a request and let us know how long its been and what partner you are NOT seeing it on. 
For number 3:
To check if you have a future release date, stay on that same page, your title overview page, and look under "Release Date". Remember, our partners honor release dates so your album won't become available for sale until that date!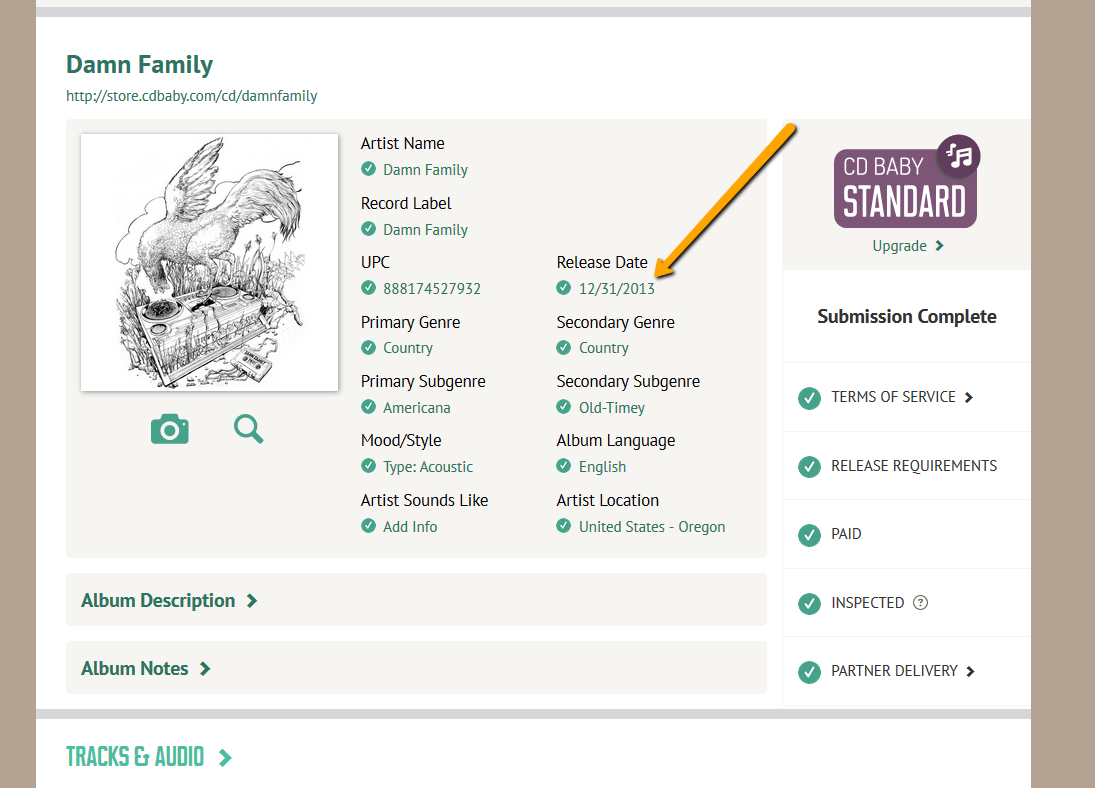 Number 4
This is a bit trickier, but if you've done all the above, this has narrowed down the issue for you and us!
If you do suspect (and/or remember) that you chose "album only" for your album and you want to remove the restriction, simply submit a request here and specify that you need the "album only" restriction removed from your album.