If you would like to have your album available for digital pre-sale we can set that up with Apple iTunes and Amazon Music.
Eligibility
In order to be eligible for iTunes or Amazon pre-sale, you must have the following:
The release date must be more than 7 days from "today" (i.e. the day you sign up).*
* We recommend giving yourself at least a 30 day lead time to account for processing time, inspection, delivery, etc. It takes a minimum of 5 business days from the date of delivery for pre-sale albums to appear on iTunes.

You will need to approve our album and it should be finalized prior to delivery being started.)

The pre-sales period may be a minimum of one-week & a maximum of six months (the time between when pre-order is activated on iTunes & the album is officially released everywhere).
Pre-sales are available for ALBUMS ONLY, NOT SINGLES
If your album is eligible for iTunes pre-sales, by submitting a future release date with the above threshold, the pre-sale process will activate. If you do not see these options during the sign-up process, your release is not eligible for the pre-sale option.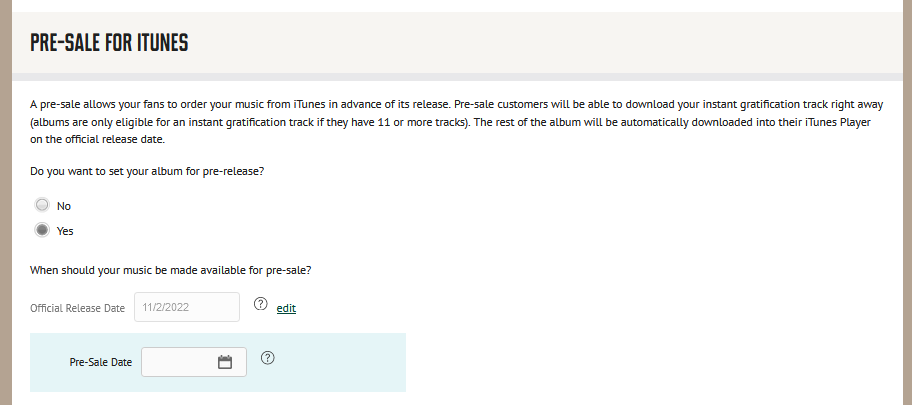 Instant Gratification track
Pre-orders can have an "Instant Gratification" track which allows anyone to purchase or stream the track during the pre-order period regardless of whether they pre-order the full album. You will have the option to select this track during the sign up process.
Albums are only eligible for an instant gratification track if they have 11 or more tracks.
Instant gratification tracks must be less than 10 minutes in length.
The instant gratification track can never be changed or disabled once the listing has been delivered to iTunes.
Amazon Music:
Albums will show up on Amazon on the pre-order date or release date, whichever is earlier. A customer will be able to purchase the music but it won't be available for download until the specified release date.
Please note, we are unable to offer pre-sales of your physical content, like CDs or Vinyl, at Amazon.
Here is an example of a pre-sale album on Amazon: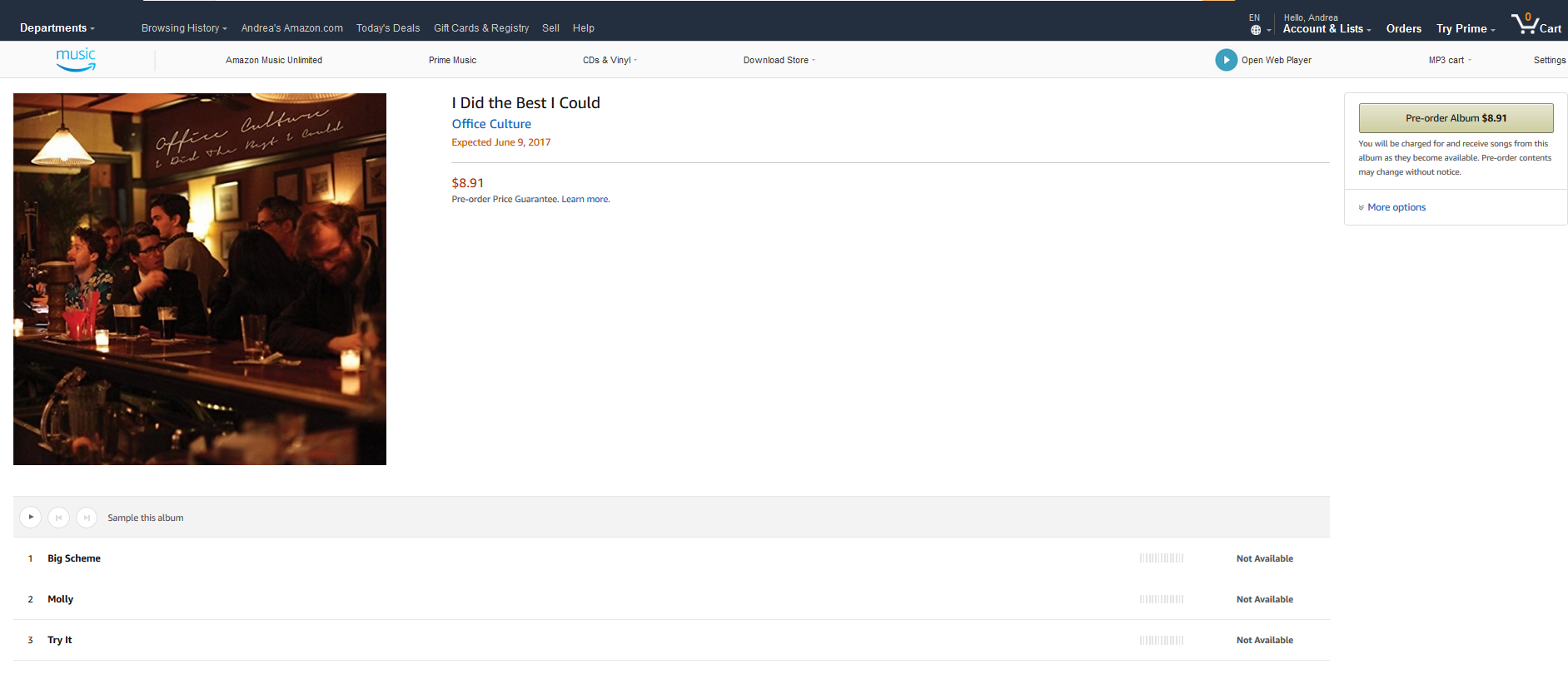 iTunes
Here's an example of an album live on iTunes for pre-sales with an instant gratification track. The album will become available for pre-add on Apple Music the moment it's available for pre-order on iTunes, and any instant gratification tracks will be streamable as well.