HearNow will populate certain links for you, but it also allows you to customize and add your own links!
Music Links
We use the UPC for your album or single to find links to your music on Spotify, Apple Music, iTunes, Amazon, Deezer and Pandora*. Those links should appear automatically as your release goes live at each of these services. This can take anywhere from 1- 2 weeks to retrieve those links. We frequently rescan the digital stores so we can get you your links as soon as possible!
Please keep in mind we cannot begin the scan process until your music is live in music stores or after your release date. This means, if you have a future release date, we cannot retrieve those links until on or after that date.
*At this time, Spotify, Apple Music, iTunes, Deezer, Amazon, and Pandora are the only digital music links HearNow has available. We are working to add more music links to this section and to give HearNow users more control over which links are displayed in the future.
For a breakdown of all the distribution statuses you might see, please go here.
Physical "Buy" Button Links
If you'd like to add a "buy" button for a physical product, you can do so straight from your HearNow page!
When you log in, you'll be presented with your site settings.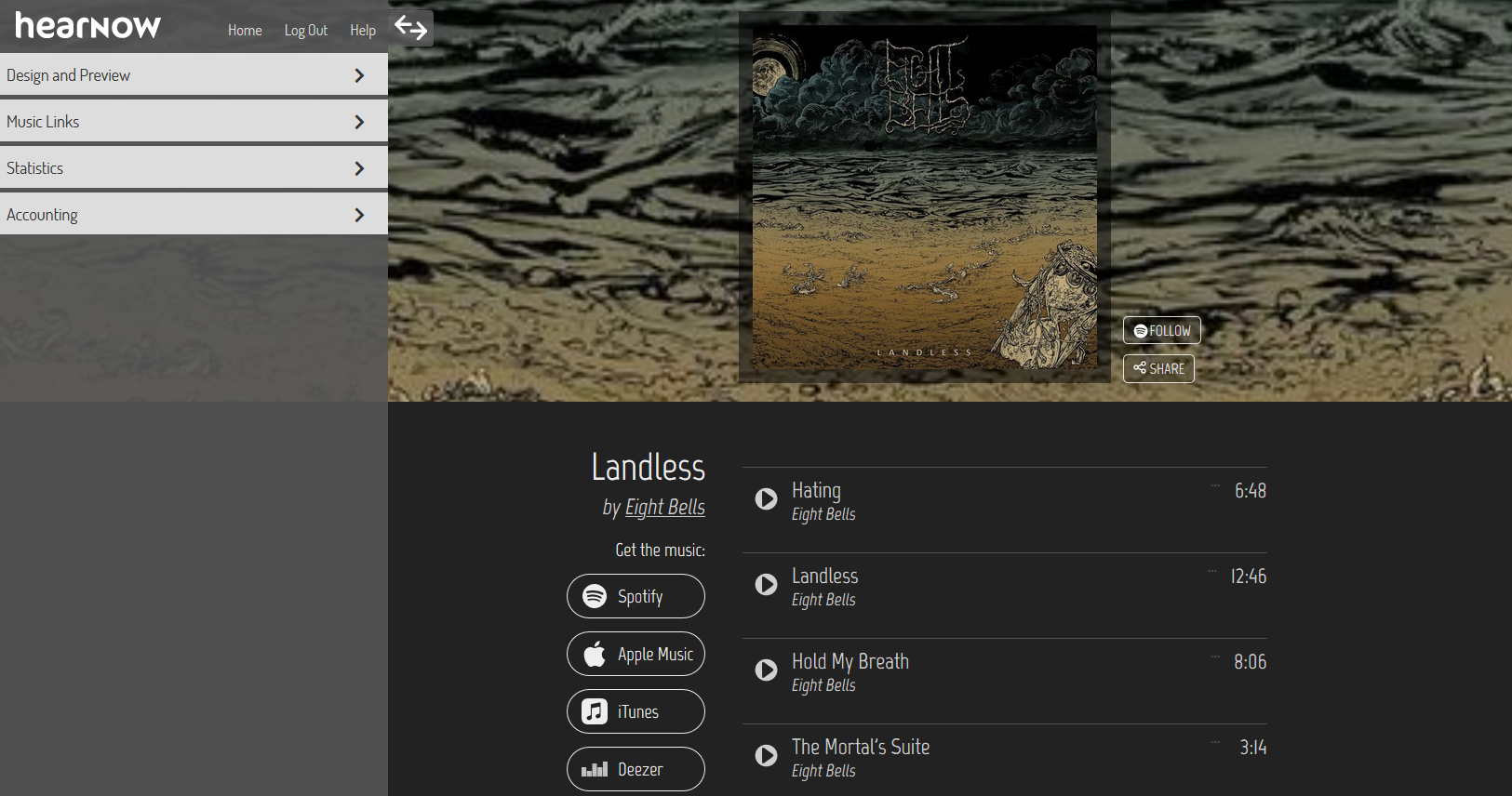 You'll want to click on "Music Links".
Under where it says "Buy from Artist," you may have found that your Amazon link is already there.
If not, you can add it or any other link to your physical product (CDs, Vinyl, merch, etc).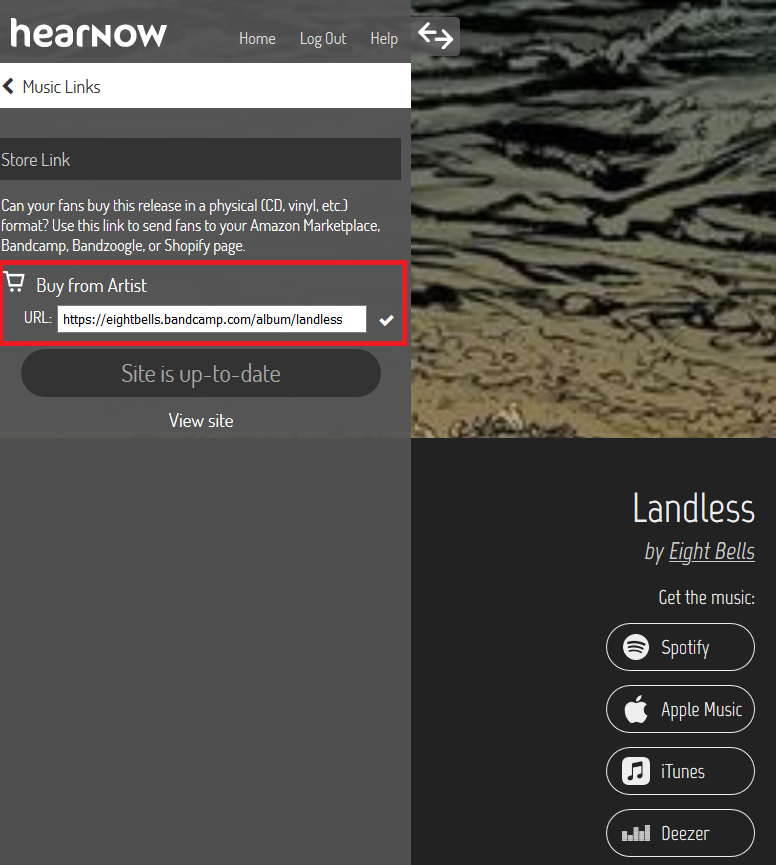 When you save, it will have a little cart icon at the bottom of your music links.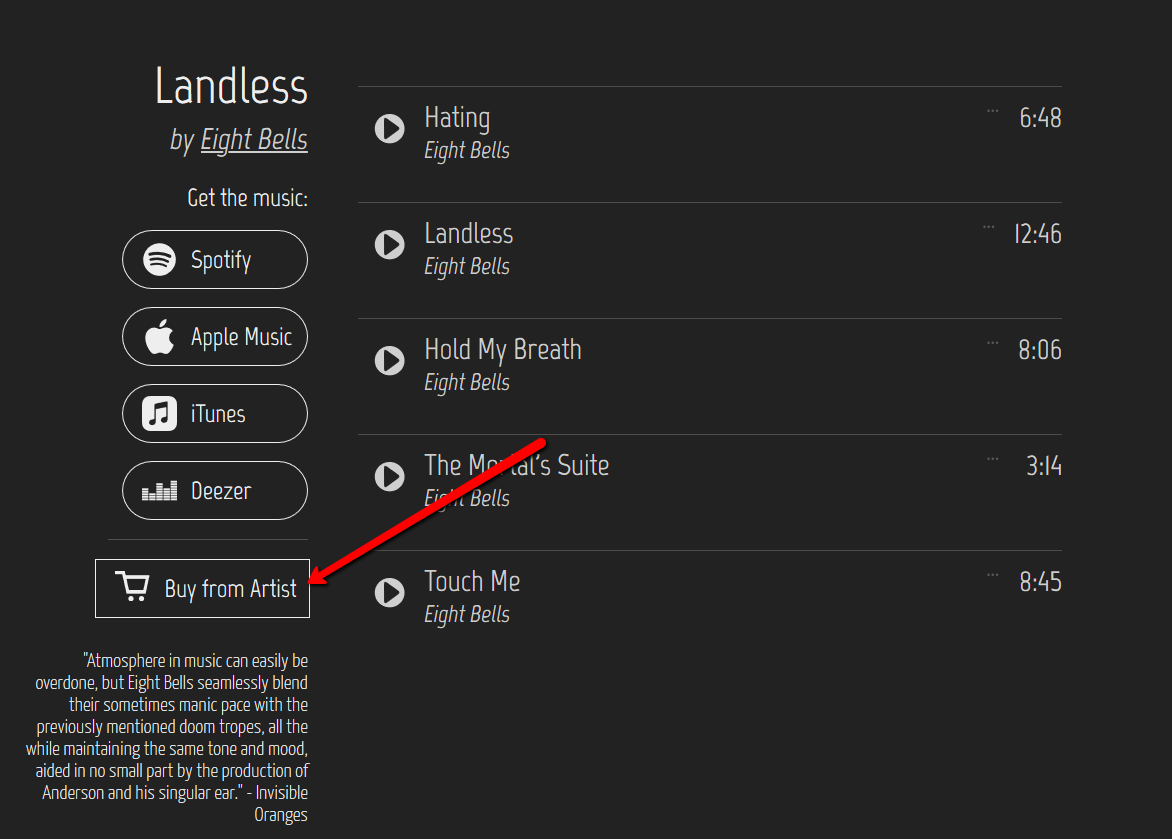 You may notice that not all of your buttons are available yet. Check out this article to see why.
Fan Funding links
If you have a page set up for fans to support you directly, we're making it easy for you to add that link to your HearNow page.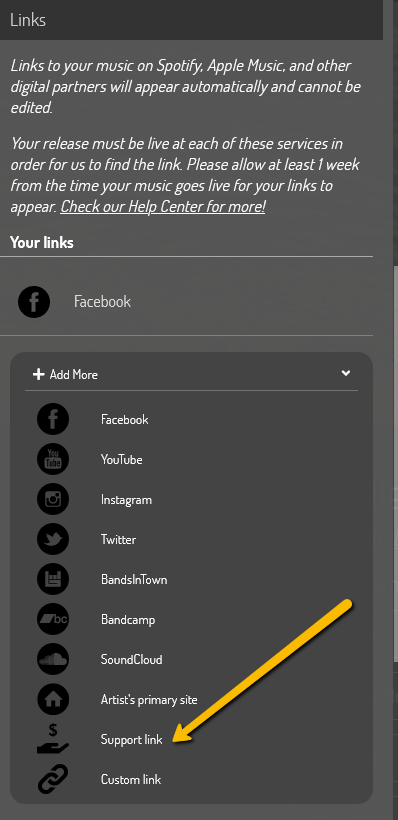 Below is a list of businesses the HearNow platform is able to support:
To add one of these links, log into your HearNow page, click on "Design and Preview" and go to the "Links" section. Are you a visual person? You can see those instructions here.
Social Media Links
You can add and customize all your social media links from within your HearNow account as well. If you'd like to explore that, go here.
A note about Pandora
Pandora is a bit of a wild card. Since Pandora is a curated service and we cannot guarantee placement in their catalog, you may not see the Pandora icon appear on your HearNow page. For more on how Pandora works and how to get your CD Baby music on their platform, please check out this article.
A note about Apple Pre-Add links
In order to see an Apple Pre-Add link on your HearNow page, your album must be successfully delivered to Apple at least 7 days before your release date, and you need to have one 'instant gratification track' selected. However, even if these conditions are met you still may not see this link appear. For more information about pre-orders please check this article.