Spotify for Artists is a way for you to take control of your artist page and see who's listening!
If you use CD Baby to upload your music to Spotify, you will get access to claim your Spotify profile using our Spotify for Artists tool on your dashboard under Tools & Promotions tab. Claiming your Spotify for artist profile page through CD Baby will enable you to become verified on Spotify and gets a blue verification checkmark. Getting verified on Spotify lets your fans know that your artist profile belongs to you. Click here to start the process.

This article contains: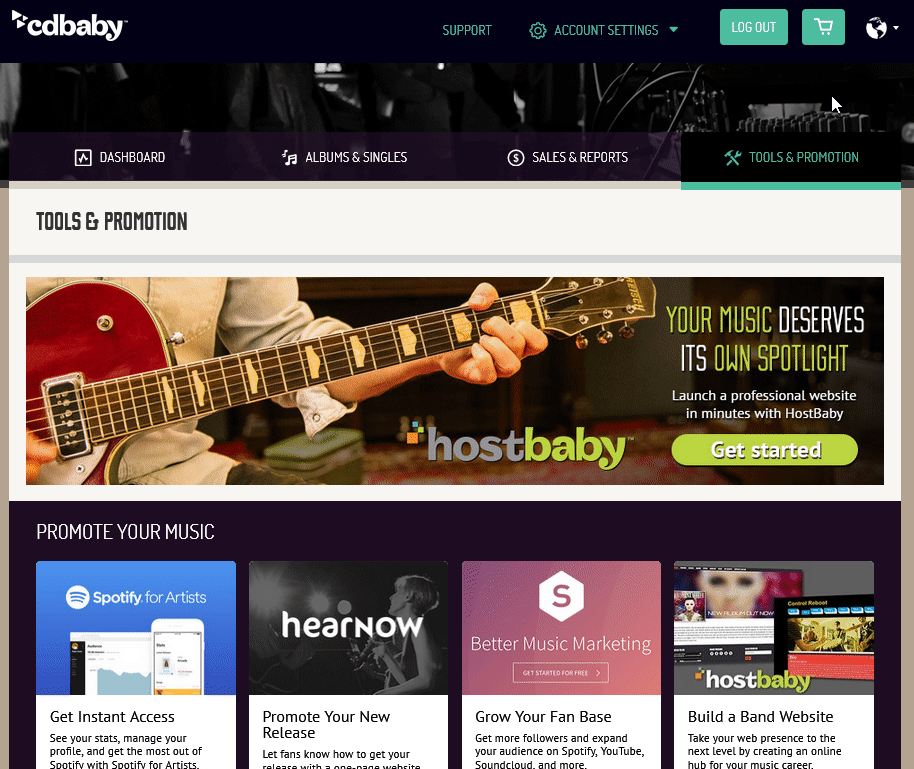 How long does it take?
Verifying your Spotify artist profile is contingent on us delivering your content and your first release going live on Spotify. Once your release is live on Spotify, it can take up to 2 weeks for Spotify to fully create your profile. At that point, you will be able to verify your page from your CD Baby account.
What if this is my first release and I can't verify my page without my music being live, what should I do?
We know it is not ideal but if this is your first release and you don't have anything on Spotify yet, you will have to wait for your release to go live in order to claim your artist page.
If you are not seeing your artist show up in the drop-down menu, it could be:
Your content was just recently delivered or posted to Spotify and the information has not yet processed on the Spotify side.
You did not choose Spotify as one of their DD Partners
You have not given your final approval for digital distribution
Your title has not passed inspection yet
How to file an Artist Separation
Is another artist listed on your artist page or is your release on the wrong artist page? If so you can file a Spotify artist separation straight from your CD Baby account dashboard! Simply log into your CD Baby account and under "Manage" select the link "Spotify Artist Separations".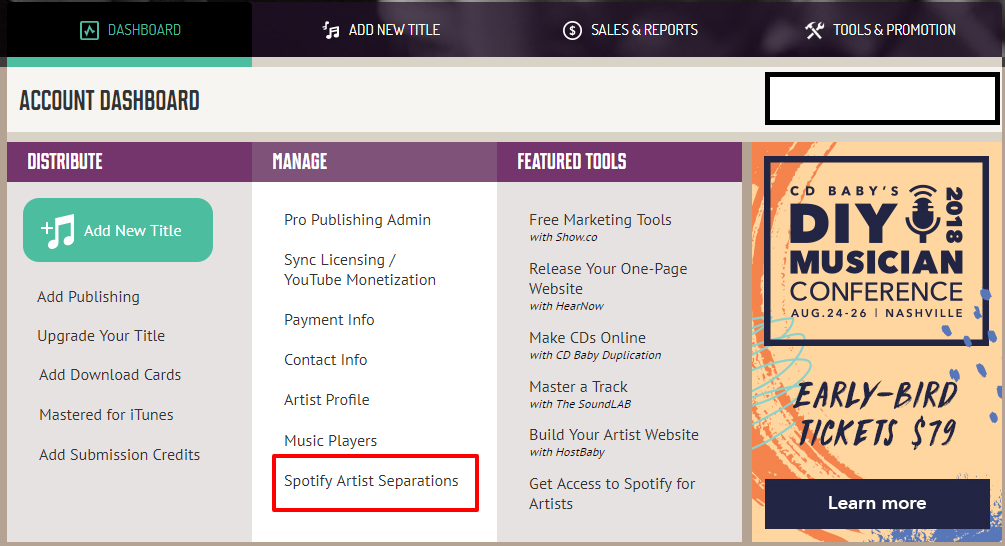 You will have the option to move your album from the wrong Spotify page to the correct one (or create a new Spotify artist page if you don't have one already). You can also request that Spotify move someone else's release off of your Spotify page. We'll walk you through it step by step. Once the request is complete, a confirmation page will be displayed. Please make sure to submit only one request per album that needs to be moved, duplicate requests can delay your Artist Separation request or even cause it to be rejected.
How to find the Artist URL on a partner site
On Spotify, you can obtain these URLs by right-clicking the artist name, then left-clicking "Share" and then left-clicking "Copy Artist Link."
Learn more about Spotify for Artists' features on their site here.