The following shows you how to navigate the accounting for your CD Baby account.
Sales and Accounting breakdown
You can look up a summary of the sales of your music in your CD Baby account.
To do so just follow these steps:
Log into your account

Click on the Sales and Reports tab located on the main Dashboard page

Click on Sales & Accounting

To the left hand side of the next page is a menu for Sales History
To see your digital distribution partner sales (i.e. iTunes, Amazon, Spotify):
Click the DD SALES - BY ARTIST link. Clicking the green PLUS sign next to the artist name will expand to show the albums and singles by that artist. Those results can then be expanded again to show song breakdowns.
To see your CD Baby direct sales
Click the CD BABY SALES (ALL) link. To the upper-right hand corner of this page is a button that says FILTER YOUR SALES. Click that to expand your sales filtering options.
Unit and Quantity
The number in the "QTY" column refers to number of streams or downloads per that song or album. The number in the "Unit" refers to your takeaway per quantity. "Payable" is the amount owned to you (after the partner and CD Baby cuts). You can multiply the QTY by the Unit = Payable.
For example, if you see 3 under the QTY, that means that particular song or album was downloaded or streamed 3 times during that sales period. The amount under "unit" is the amount payable to you per download or stream, let's say it's $0.63700000. That's the amount per download or stream. Now if we multiply that by 3 (3 downloads times the unit price of $0.63700000) = $1.911 and that's your take-home per that line.
Beginning in September 2020 you will see more detailed Spotify earnings with a greater number of different "unit" (amount payable) amounts. Because Spotify has numerous plans listeners can enroll in, you may see more than one unit for the same song.
Downloads and Streaming
You'll see a few different types of sales in your account.
Downloads: A download is a purchase of your music where the actual audio file is transferred to the customer's computer or mobile device. Every time someone downloads your music, you'll get paid.
Most of your download partners pay a standard rate for each song sold. However, some of our subscription-based download partners' payout rates change month to month based on their revenue for that period
Streams: A stream is basically the same thing as a "listen." The customer is able to listen to your song on their computer, in their car, on their mobile device, but they are not purchasing the song to own. No file is downloaded. Payments for streams vary from fractions of a penny to a few cents per play.
Streams fall into two categories:
Tethered streams, where your device/computer must be online in order to hear the music.
Non-tethered streams, where your player can stream songs while NOT connected to the internet, as long as the streaming service has verified the customer has paid their subscription fee for the month. No pay - no play.
Why are some Spotify streams $0.00?
In most cases, Spotify streams that show $0.00 actually do represent payments of a small fraction of a cent that has been rounded to $0.00. To see the actual amount of the payment past the second decimal place, please click the "Details" link to the right of the payable column.

If the payable amount for your Spotify streams is actually zero, and shows only zeros in the "Details" page, this means that Spotify has determined that these are Artificial Streams. For more information please read What happens if I use a service that promises more streams, or I play my own music on repeat?
We can not appeal this determination on your behalf, but this determination by Spotify does not mean you can't earn money for your legitimate streams in the future.
How do I see my payment history?
You will now see your payment history in the Payment History section within your Accounting Overview and in the Payment and Tax Info section under Payment History.
From Accounting Overview
Click on the Sales and Reports tab located on the main Dashboard page

Click on Sales & Accounting

Click on Payment History under Accounting
You will see a chronology of all the payouts

From the Payment and Tax Info section

When your payment is processing, you will see the little flag "On its way". Once it's complete, you will see "Complete" and this payment will then appear in your Accounting Overview.
If you need to download payment history reports, the instructions are here.
Why are some payments split into multiple deposits or payments?
CD Baby launched a new payment system in November, 2021. Your payment will be split into multiple deposits or payments if you have both US-source income that is subject to tax and withholding, and other income. For more details on what is and is not subject to tax and withholding please click here.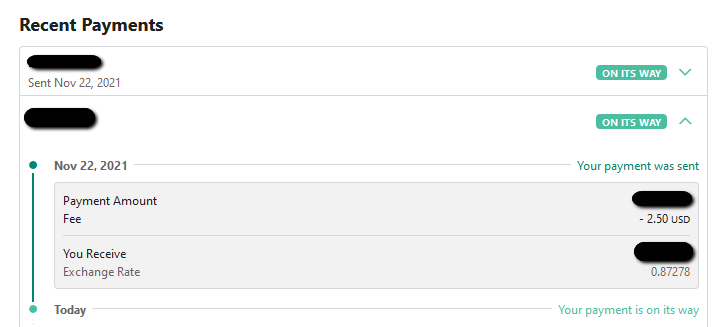 Please note, if you have selected a method of payment
with a fee
you will only be charged one fee even if there are multiple deposits. We apologize for the inconvenience these multiple payments may cause, and are working to improve this situation as quickly as possible.