You can manage your artist profile, dig into stats, see how and from where your fans are listening, pitch your new music to Amazon Music, and be the first to know when you've been added to a new playlist - all with the click of a button!
How to claim your Amazon Music for Artists profile
It's pretty simple. On mobile, you can head over to the app store on your iOS or Android and search "Amazon Music for Artists" to download the app. On desktop, you can access Amazon Music for Artists here.
When asked to log in, you can use your existing Amazon account credentials or create a new account just for Amazon Music for Artists.
You can then search for the artist profile you wish to claim either by artist name or by artist ASIN using the "Share" URL found in Amazon Music. To verify your claim as quickly as possible, you'll want to provide as much information as you can including social media login (Facebook, Instagram, Twitter,) as well as your CD Baby authentication details. Authenticating via CD Baby will fast-track your access to Amazon Music for Artists.
How long does it take?
Authenticating through CD Baby should be instant unless Amazon cannot match your CD Baby account to your music catalog on Amazon. To avoid a delay or rejection, make sure you've selected the correct artist profile as well as provided as many verification details in the claim process as possible.
There are other projects on my profile that aren't mine / my projects are on someone else's profile
Sounds like you will need an artist separation. For the fastest resolution, you can request one through the app itself. Go to the Help section on the app under "User Settings," and then click "Report Issue" to begin the process. You will need to provide a list of the albums that should appear on your artist profile, and/or the albums that should NOT appear on your artist profile. The process takes about 4 weeks for changes to reflect on the Amazon Music streaming service.
Here is how this appears in Amazon Music for Artists: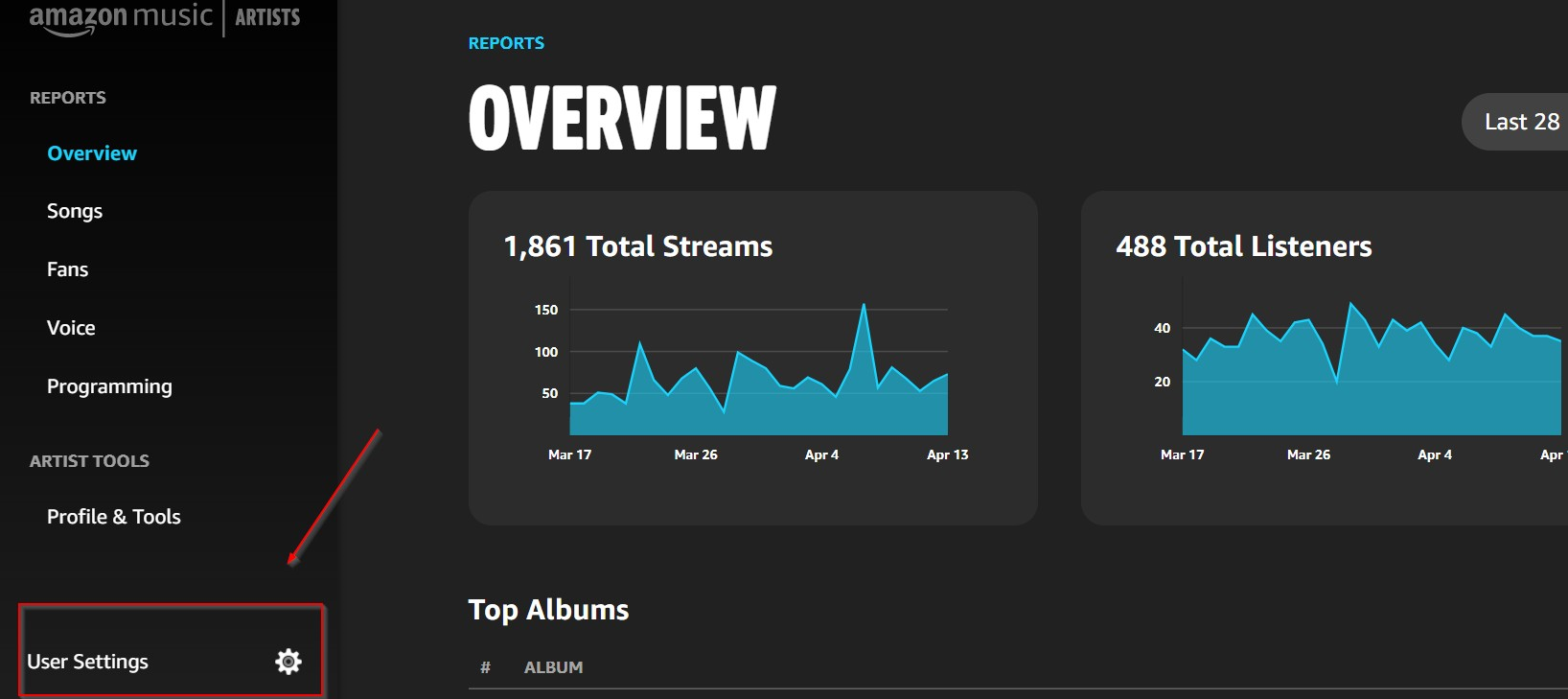 I want to change my artist photo
No problem! You can also do this directly in the Amazon Music for Artists app on both web and mobile. You can add or edit your artist profile image as well as your background image from "Profile & Tools" when viewing your artist data in the app. This process can take up to 48 hours for changes to reflect on the Amazon Music for Artists streaming service.
You can find more details on image requirements and guidelines on the Amazon Music for Artists FAQs, but generally you'll want to follow the below criteria:
Files must be either jpeg or png

Profile Photo must be at least 500 x 500 pixels

Background Image must be at least 1920 x 1440 pixels. For best results, we recommend the artist's face be in the upper 40% of the image, roughly centered horizontally.
I've got more questions.
Amazon's FAQ should have all the answers you need. Amazon Music For Artists FAQ