Here is all you need to know about trending reports
What are Trending Reports
How to access trending reports within your account
What information is included in trending reports
What are Trending Reports?
A trending report is a data that will give you a glimpse into your unofficial sales activity for all territories where your music is being sold.
We currently only offer these for iTunes, Apple Music and Spotify.
All sales and streams in these reports are subject to change and are not a safe prediction of what your final monthly sales will be.
Trending reports are exactly what it claims to be, a measure of trends, it does not reflect sales. While you can view some detailed transaction information (tracks/albums downloaded, customer info, etc.), the trending reports will differ from official sales reports for several reasons, including:
iTunes™ customers may take advantage of the "complete my album" program at a later time
iTunes™ customers may return a purchase
Months are not divided evenly into weeks and iTunes™ accounting months do not match calendar months.
A trending report should not be used as an indicator of official sales, but these reports come directly from our digital partners and are provided as a helpful tool for all of their content providers. We just download the files and transmit them directly for you.
How do I access the trending reports within my CD Baby account?
To view your Trending Reports simply follow these steps:
1. Log into your CD Baby Artist Account
2. Click on the Sales and Reports button from your dashboard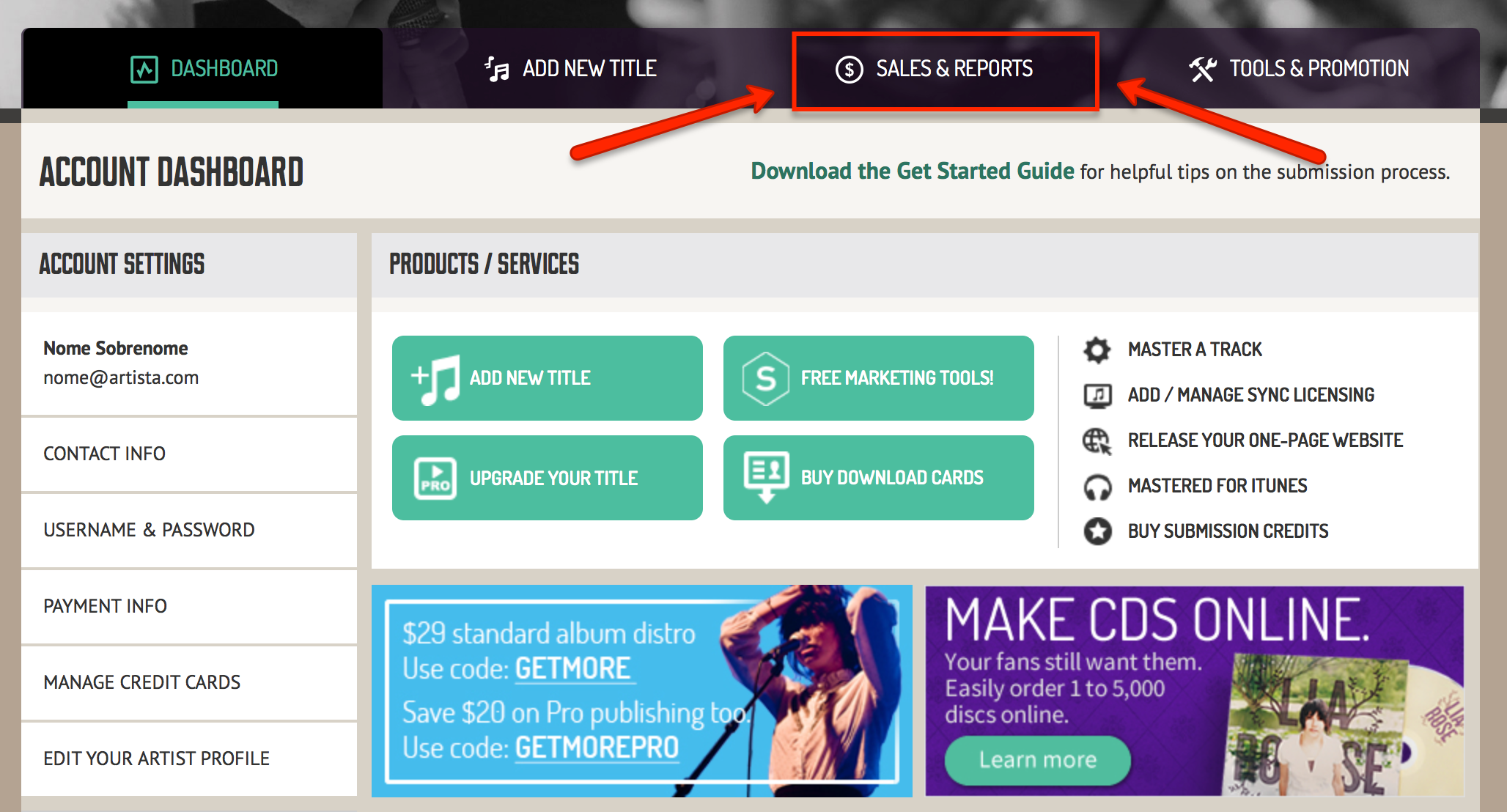 3. Click on "Trending & Analytics"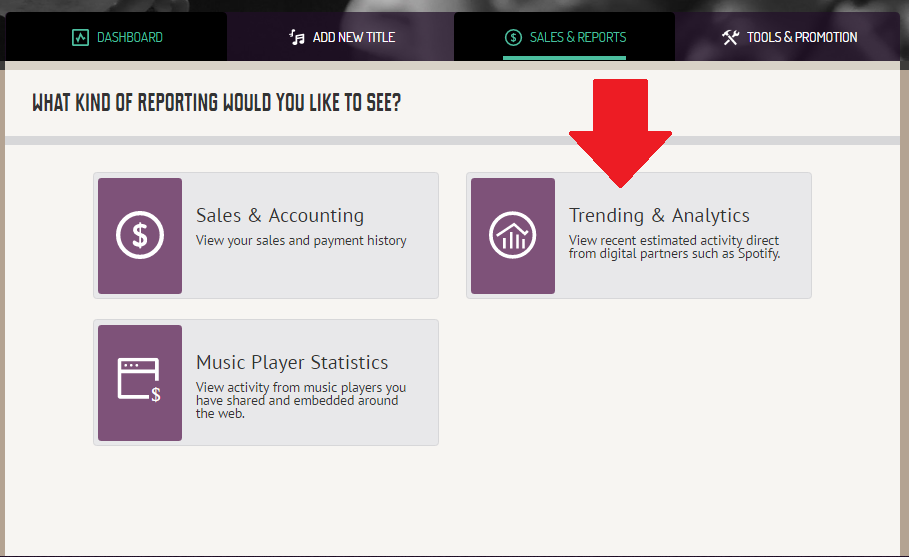 4. On the next screen you will choose the partner you wish to generate a trending report for. We currently offer trending reports from Spotify, iTunes and Apple Music.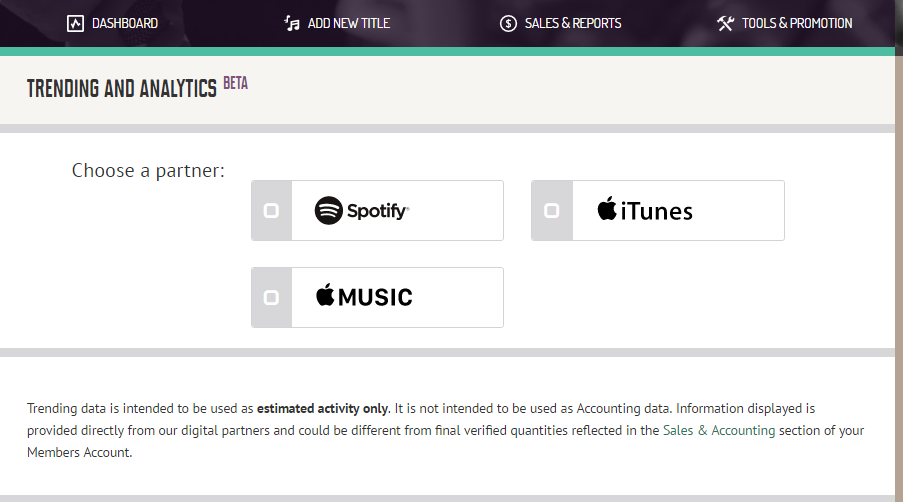 What kind of information is in the trending reports?
Once you come to the trending report for your selected partner your data will be broken up in the following sections:
Activity Summary
Top Tracks
Activity by location
Unique listeners
Device of Listener (mobile or desktop)
Play Sources (i.e. playlist, album, artist, saves, searches)
Age
Gender
Top Playlists***
Traffic Sources*
Top Albums**
*This data only available on Apple Music reports.
** This data only available on iTunes reports.
*** This data is only available on Spotify and Apple Music reports
Apple Music has additional data points for Playlists under Play Sources IF the information is applicable. You may see all, or some of the following:
Not applicable
Private User Playlist
Editorial Playlist
Artist Playlist
Curator Playlist
Seeded by Artist/Song
Format Station
Editorial Station
Personal Mix Playlist
New Music Mix
Favorites Mix
Chill Mix
Friends Mix
Query Station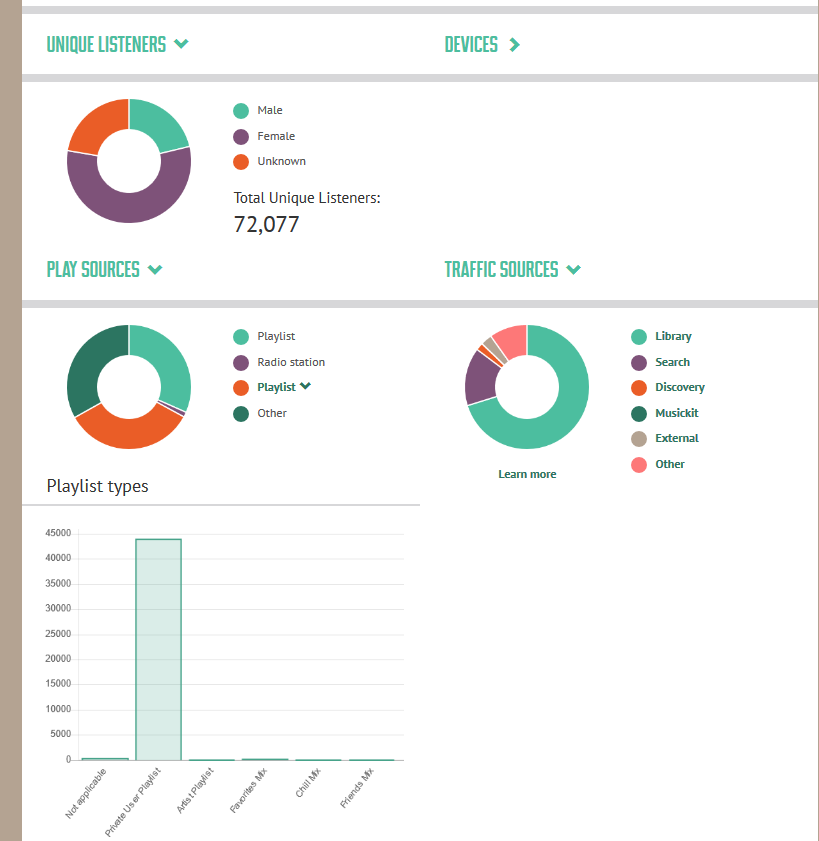 You can also modify the date range at the top of the screen, under "Report Options". Our trending reports will only go back as far as 90 days.
Spotify had extensive analytics within if you use their Spotify For Artist service. If you haven't claimed your artist profile with them, you can do so with CD Baby.