What is HearNow?
HearNow is a one-page website used to promote your CD Baby release. With a single link, you can provide a one-stop digital destination for your music!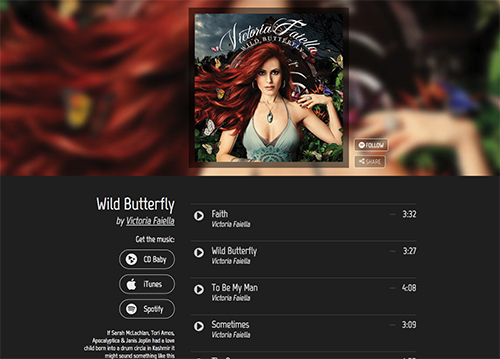 Your site can include things like:
Your cover art and music player

Spotify "Follow" and "Add to playlist" buttons

 

Links to your music on Spotify, Apple Music, and more

Links to your social profiles, website, Bandsintown, Bandcamp, etc.

Links to donation sites like Venmo, PayPal, or Patreon

A dark or light color theme
When you use a HearNow smart link, you'll avoid one of the most common mistakes artists make when sharing new music: providing too many links to streaming platforms. Lots of musicians think they're being helpful; however, multiple links in a single email or social post actually increase the chance that your message will be detected as "promotional," and reach far fewer fans as a result.
Your HearNow page will also look great on all devices and link your fans to the places where THEY want to engage with your music.
Pricing / Subscription Plans
HearNow is a subscription based service. Subscriptions for each HearNow page are paid and managed separately from one another, but can all be accessed through your HearNow account.
You can choose between two subscription plans:
Monthly: $2.95/month per release and page
Yearly: $24/year per release and page
*Cancel any time
Creating your promo page is super easy - just log into your CD Baby Members account and choose "RELEASE YOUR ONE-PAGE WEBSITE" to select any of your published CD Baby releases. Check out this article for more details.
Customizations

Once your site is live, you can choose to rock a dark or light color theme, set the look of your album banner art, pick if your fans can listen to your music as clips or full tracks, add an album description, add links to your social media sites and other online platforms, and more. You can change those settings as many times as you like. You are creating a unique site for you and your fans to share. Start promoting your release now!
How Do I Promote my HearNow page?
We recommend using HearNow as a supplement to the promotion you are already doing!
We have seen artists use their HearNow page to let people know about a new release, as a replacement for a press kit, and as a tool for pitching to independent playlist curators.
If you need ideas about getting started with promotion and marketing we recommend checking out CD Baby's DIY Musician Blog.
We highly recommend the following articles: